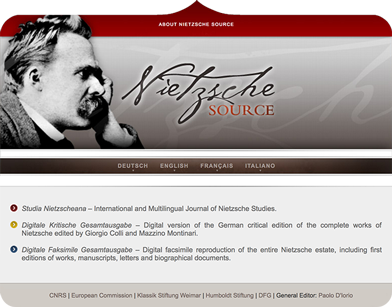 Nietzsche Source is a website devoted to the publication of primary and secondary sources bearing on the work of Nietzsche.
Currently, the site publishes two scholarly editions: the Digitale Faksimile Gesamtausgabe (DFGA) in collaboration with the Klassik Stiftung Weimar, consisting in facsimile reproductions of all Nietzsche`s manuscripts, and the Digitale Kritische Gesamtausgabe Werke und Briefe (eKGWB), a digital edition of all Nietzsche`s complete works along with his correspondence, based on the texts critically established by G. Colli and M. Montinari. It also publishes a multi-lingual critical studies review entitled Studia Nietzscheana.
Nietzsche Source is consulted some 100,000 times a year on average, by readers accessing it from over 100 countries all around the world.